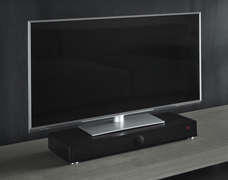 Audio Technology Integral to Superior Performance in New TV Soundbase
THAT Corporation, a leading provider of high-quality audio technologies, today announced that it has partnered with Geneva Labs, who will feature THAT Corporation's dbx-tv   vv® Total Volume™ loudness control technology  in their new Model Cinema high-end TV sound system / stand. The only 2-channel loudness control technology that manages all sources of undesirable loudness changes, Total Volume eliminates the constant need to reach for the remote. By taming loudness spikes and intensifying quiet dialog, Total Volume creates a more consistent and enjoyable listening experience with even the most difficult program material. 
According to Les Tyler, THAT's president, "Out of control loudness changes have plagued television viewers for years. We believe viewers need control in order to have a truly effective solution, and dbx-tv's Total Volume technology in the new Geneva Model Cinema provides that control. Unlike other solutions, Total Volume deals effectively with all sources of loudness variation—too loud commercials, switching channels, varying input sources, and changes in surround processing or program dynamics.
Timothy Brault, THAT's Licensing Sales Manager, commented, "Total Volume uses audio compression technology derived from dbx's decades of experience with audio level control. Coupling Total Volume technology with Geneva's renowned audio design prowess makes the Geneva Model Cinema much more than just another sound base. "
Adjusting the TV volume every few minutes due to loudness spikes is the number one complaint from TV viewers everywhere. According to FCC documents, undesirable changes in TV-audio loudness levels have annoyed viewers going back to the 1960's. dbx-tv Total Volume behaves like an intelligent hand on the remote control, maintaining desired sound levels without changing the tonal balance, spatial presentation, or subjective dynamics of the original source. Plus, it's virtually free of the "pumping" and "breathing" common to lesser products, without affecting lip-sync.
Total Volume is available today for evaluation and license.
To learn more, please contact dbx-tv:
Email: info@dbx-tv.com
About THAT Corporation:
See www.thatcorp.com for more info.
About Geneva Labs:
See www.genevalab.com for more info.